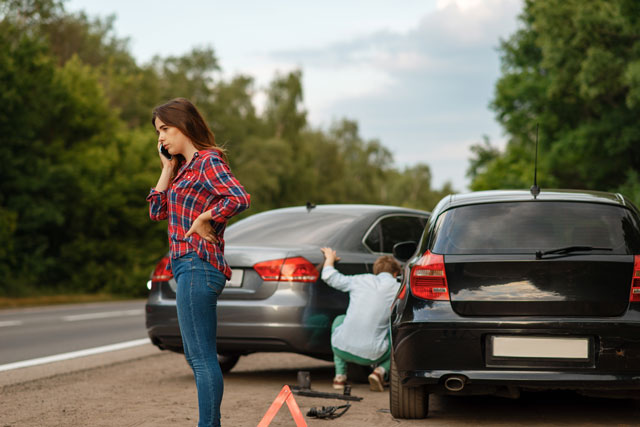 7 Steps To Take If You Are Involved In An Accident
Being in an accident can be scary and unnerving. However, it is vital that you take all the necessary steps to stay safe and collect the necessary information for your claim.
1. Stop
Don't drive or run away from the scene of the accident — you could be arrested for leaving, even if it's minor. If your car is still operable, drive it off to the side of the road and out of traffic. If you can't safely drive it, leave it to a tow truck. Assuming you can safely get out of your car, put warning flares out and turn your flashers on to warn traffic of your accident.
2. Seek medical care
Are you, or anyone else in the car, injured? How about in the other car? If you think someone needs urgent medical help, call 911. Injuries often aren't immediately apparent in auto accidents, so you may need to see your doctor or go to a hospital emergency room a day or so later.

3. Call the police
Even if no one is injured, calling the police is a good idea. They can help with traffic control so another accident doesn't occur, and can collect evidence, talk to witnesses, and file a report that will help both drivers with their insurance claims. Unless the vehicles interfere with traffic, they should remain where they are so police can determine what happened.

When talking with the police, tell them exactly what happened. If you don't know certain facts, don't fudge them and say that you're unsure. If an officer asks if you're injured and you don't know, say that you're uncertain instead of no. Pain from an accident can come hours later, so saying you're not injured when you don't know could be held against you later in an insurance claim.

4. Take notes
To help your insurer, draw a map of the accident scene and write down property and vehicle damage. Also take note of the weather conditions, which can negatively affect drivers ability to travel safely. According to the Federal Highway Administration, weather related factors account for 24% of the 6.3 million car crashes each year. Get the names and phone numbers of any witnesses, as well as the other driver involved in the accident. Also, be sure to get their insurance information and write down their license plate number.

5. Take photos
Even if you have a dash camera going at all times, get out your smartphone and take photos of the accident scene. Take videos if possible. Without getting in the way of the police, take pictures of any visible damage to the vehicles. If you can't get photos at the scene, take them as soon as you can afterward. Some smartphone apps have insurance reporting tools that help collect photos, audio, and provide checklists of what to do after an accident.

6. Exchange information
If police are on the scene, they'll be gathering contact information from everyone involved in the accident. But if police don't respond, you should still get the name, phone number, and address of everyone involved, including drivers, passengers, and any witnesses. Don't stand between two cars while exchanging information — your cars could be hit by an onlooker. Ask to see the insurance card of the other driver. If police are there, ask for the police report number so you or your insurer can get a copy of the report later.

7. If injured, contact an attorney
Call our office at 253-931-0332 to schedule your free consultation. The process is quick and easy so you can focus on your healing.
Your personal injury is just that – personal. And although your personal injury case has a number, you will be treated like a person throughout the process. By choosing the Law Offices of Steven D. Weier to handle your personal injury case, you are choosing the attention that is vital to your personal recovery, and the professional know-how that is crucial to your best possible settlement. Contact us today for your no-obligation consultation.